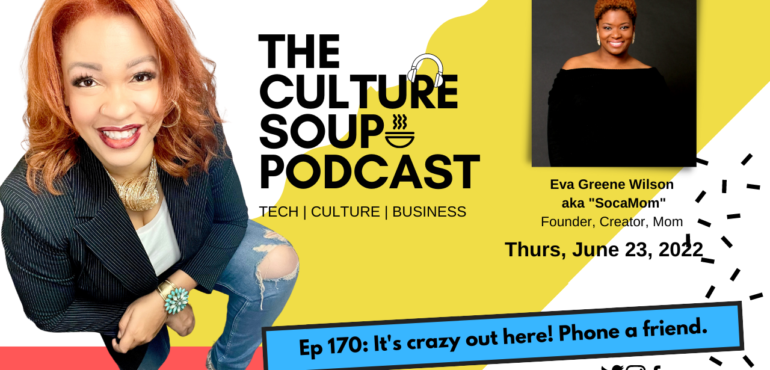 If you're a longtime listener, you know that when it gets a little crazy in our culture, I phone a friend.
Episode 170 is no exception. I don't know about you, but after putting $112 dollars in my tank, hearing more of my friends and family contract Covid, still tearing up about Buffalo and Uvalde and the many mass shootings since, and watching parts of the January 6 hearings…it was time to dial up a bestie.
Eva Green Wilson, my soror and sisterfriend for more than 25 years joins me on The Culture Soup Podcast®️ tonight as we discuss how the wheels have literally come off the wagon in our world.
Join us as we explore everything from the January 6 hearings, the pandemic, monkey pox, wars and rumors of them, the sweltering heat across the country, gas prices and inflation, anti-Blackness, gun violence, bored-in-the-house-and-being-in-the-house bored and parenting through it all.
We even answer the burning question: which are we ready for now, zombies or locusts because it's getting Biblical out there.
And I wouldn't be a good coach if I didn't ask what's the opportunity in it all. The answer may surprise you.
@Eva Greene Wilson is an entrepreneur, creator and mom and the founder of The SocaMom Summit. She is the best-known Caribbean parenting blogger and has even been seen on Oprah…yes, THAT version of the show.
Ask Alexa and Siri to play the latest episode, or stream it wherever you find your favorite podcasts. This special, extended edition starts streaming this evening after 6 p.m. CT.