Everything is brand new 🤩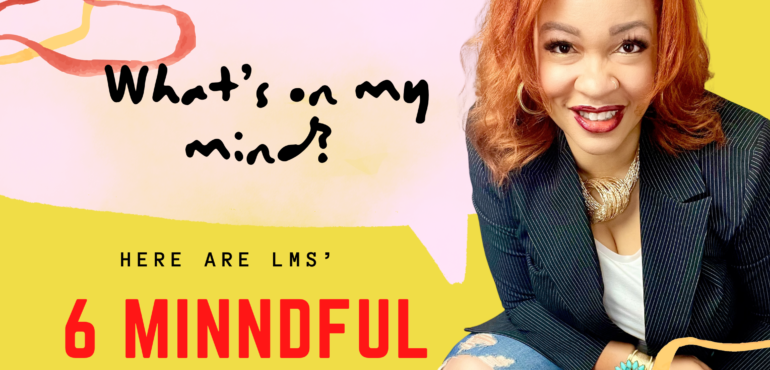 Beginning today, the NSC eNewsletter has a new look, feel and tempo. Check your inboxes every other Thursday for LMS Mindful Musings, a wrap up of hot takes, insights, actionable insights and happenings. Along the way, you'll get a little positive psychology, neuroscience and mindfulness-based content to support you on your journey to extraordinary leadership.
To my wonderful coaching community…
First, a hearty THANK YOU for being so supportive of my mission to support more women and women of color on their journey to extraordinary lives and leadership, specifically moving them into the C-Suite. And you probably guessed that I don't only support these women. Some of my community is made up of some very sold-out men—sold out on the idea that happy people are successful people and with the idea that if you solve for the double disadvantaged, you can solve for any one. They are winning too!
What's on my mind:
The Language of Privilege
Have you ever considered the language of privilege? I was watching CNN the other day, and I noticed an anchor describe something clearly criminal as "an interesting approach." She wasn't reading. It was banter. She was speaking of someone who has plenty of stature, and is typically centered in any space he takes up, and then I thought about her. In her role, she was likely so removed from the repercussions of the crime that it just didn't phase her. When I was in Corporate America, I noticed this behavior as deeply engrained in the culture. No matter how egregious someone's actions might be, it was typically described in the most benign terms, but typically those words were expressed in open spaces and in mixed company (the marginalized with the privileged). On a rare occasion, when under represented group members stole a moment away in private and the mutual trust was there, a spade could and would be called a spade. In other cases, one of the othered parties might continue the benign language.
Question: Have you noticed how language can be tool to keep the marginalized in the margins? How then will they ever have a voice in business spaces… where so many organizations are loudly proclaiming that they want to see change?
Let me hear from you. You can simply respond to this email.
What I'm trying:
Bad-ass negotiations
Tuesday I tweeted something like this: When you are negotiating, make the biggest ask, and DO NOT BLINK. Wait… it's knowing that you will walk unbothered… then pause and the silence that follows will work hard for you every– single– time.
Typically, I engage this tactic when I am negotiating my own service agreements and fees, but recently, I engaged it to reverse a negative outcome from my own vendor/supplier. Thanks to a clerical error that tipped off a series of unfortunate events that could have put a huge dent in my bank account, they were convinced they had the right to their actions.
Not today, Satan. 👏🏽 My big demand in this case wasn't even an audible one. I walked, but first I left a very professional termination for breech letter for them to mull over. A week later, it was corrected, and my account now has a credit. When you're right, and you know it, be willing to take it to the mat to get the outcome you seek.
On a more positive note, I am negotiating a better fee for a group of coaches who are trusting me to do so for an upcoming event. I plan to ensure we're all winning, but remember—silence is golden.
When was the last time you had to negotiate for your best interest? How did it go? If you are looking for support in this area, get on my calendar.
What I'm celebrating:
Client Wins & Grins
I admit that a recent headline on BlackEnterprise.com made me curious. It was about a coach that I'm connected with on LinkedIn, and it was impressive. It was great for her, but it is likely a story I'd never have my team pitch. No shade—more power to her, but I do my best to center my coaching community. The core of the story was definitely my jam, however: helping Black women negotiate better salaries during the pandemic. She helped a lot of sisters win!! Bravo! And I told her so. But when I consider how hard my clients worked over that same time period and now, and the strides they made, I wanted to see a monetary metric myself. You see, I have never spent any time quantifying the dollar amount that the group made in a certain time period. My view is more holistic, looking at the improvement of their overall quality of life, upward trajectory and promotion, the enhanced abilities to access generational wealth. I've only isolated one metric, and that was promotions.
But yes… it made me curious. Who could resist?
So I asked a portion of coaching community (I contacted about 100 of them) to opt in and share any boosts in pay they'd received since 2019 as a result of our engagement. Everyone didn't participate, but in less than 3 hours, I had responses from about 8 individuals with their pay increases— the total? More than $1million dollars in pay increases. Just 8 people, folks. I will never take credit for their hard-earned work, because, it isn't about me. It's about THEM….and all I can do is grin. Their win. My grin.
Now back to work… Who needs to win at better pay? Let's talk.
What I'm working on:
New office and studio
It is truly a busy season for me right now, and yes, everything seems brand new. I've just moved into a brand new, full-time office and studio space in the building where everything first began. When I first started, I reserved an executive suite for only limited time during the month because I was on the road so much. Remember the year I did more than 40 speaking opps? Post pandemic, more people are doing business remotely, so my travel is happening at a slower rate, with some organizations opting for virtual and hybrid appearances. So I'm working to build the space out to begin to drive more local foot traffic my way with new and existing clients in the DFW area. When it's ready, I'll share some photos. In the meantime, if you want to book time in person, for the September timeframe, you can do that now, or give me a call at 469.523.1453. And guess what? Only a credit card hold is needed to book for these a la carte, personal sessions (non-organizational). It's a great new alternative to paying up front that many of my clients are loving these days.
If you are in the DFW area, I'd love to have you in for an in-person session. Current clients, just let me know. New clients, call me or get on my calendar now.
New book, and Not-So New Book
Yes, Please! 7 Ways to Say I'm Entitled To the C-Suite: Secrets Women of Color Need to Know Now to Find Their Happy and Thrive in an Exclusive Corporate Culture is coming, but guess what? No Thanks continues to be in high demand. So while I'm writing, writing, writing, and planning the launch, I'm signing, signing, signing No Thanks everywhere! You may have seen me in Las Vegas at the NABJ-NAHJ Convention's Author's Showcase, and perhaps that same weekend at the Women's Leadership Summit in Dallas; but you may not have known that I'm signing a formidable batch for the Black Girls in Cyber organization. I'll ship them off next week and plan to speak with them on September 29. The next day, I'll be speaking to young artists at Howard University's Chadwick A. Boseman College of Fine Arts on behalf of the Denise Graves Foundation in Washington D.C. I sit on the advisory board. Only five days later, also in D.C. speaking at the Executive Leadership Council at their Midlevel Management Symposium.
Yes, Please! Ask me anything:
We're kicking off a new series soon where I answer leadership, corporate and business questions directly with you. Certain compelling questions may be highlighted in a new video series coming to my YouTube channel and other social media platforms in anticipation of the release of Yes, Please! It is my attempt at creating a deeper connection with my community while I bust some myths and pierce some veils about senior executive leadership and the journey to the C-Suite. Submit your question here.
What I'm reflecting on:
Extraordinary leaders look for results before buying in. Skill up, but test the source.
Check out content like this on my Instagram, at least once a week. Remember to like and follow.
What I'm Reading:
I'm picking up When Faith Meets Therapy (Anthony Evans) this week!
Until next time…
Warmest wishes!
Coach L. Michelle