No Thanks Online Course & Discussion Guide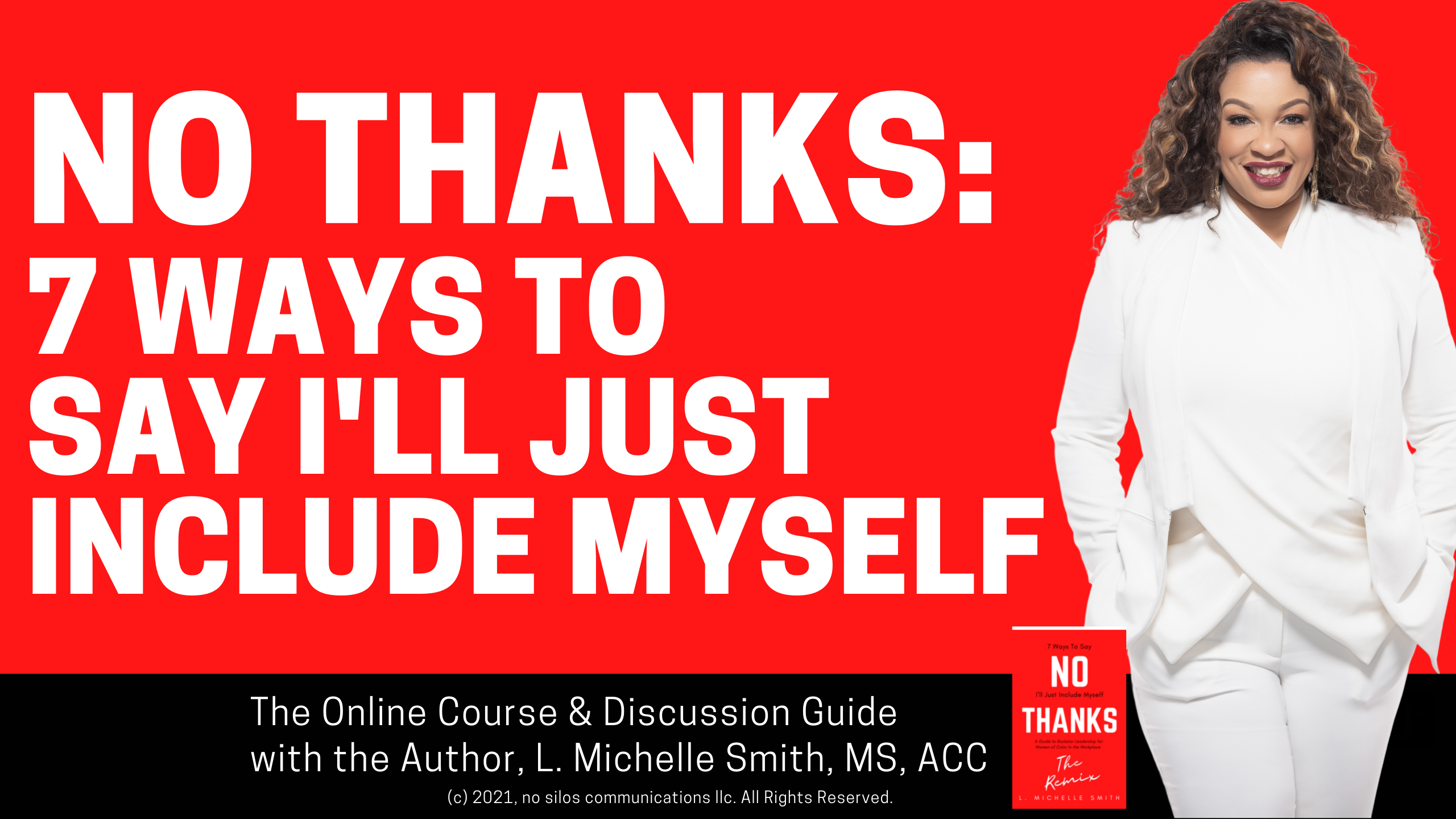 The No Thanks Online Course & Discussion Guide is more than 4 hours of content drawn specifically from the bestselling book, No Thanks: 7 Ways to Say I'll Just Include Myself.  The book holds within its covers so many teachable moments, it made since to turn it into a self-paced course.  LMS walks with you, chapter by chapter in this video-driven course, and provides thought provoking discussion prompts after each chapter.  Setting clear objectives, LMS provides you with her expertise as a certified hybrid instructor.  She also provides "Easter Eggs" throughout in the form of a couple bonus digital tools that go deeper in on topics discussed in the book.

The way to executive leadership in the corporate workplace can be a struggle for women of color according to recent studies, and this current environment of health crisis, economic and cultural unrest have made it even more so. No, Thanks: 7 Ways to Say I'll Include Myself provides a roadmap of affirmations, coaching and actionable steps women of color can take to not only lead, but lead like a rockstar during this unprecedented time and beyond. Based on the career journey of former corporate leader, serial entrepreneur and certified executive & business coach L. Michelle Smith, she shares a simple roadmap to not only executive leadership, but rockstar leadership.Isn't it time that we not only hold companies accountable but actually DO something to grab the reigns on our leadership aspirations?The leadership pipeline has a gaping hole in it, in the middle and it is spewing out black women who aren't otherwise simply stuck.I'm glad to finally offer a resource for you that will not only share our collective concerns but offer some solutions that will support your goals to ascend to executive leadership without losing yourself or your sanity in the process.Based on my personal journey and some stories of some of my amazing mentors and sponsors, I'll provide you with 7 statements—positive self talk grounded in real solutions—- to keep you focused, hyped and affirmed on your journey, and you'll work though coaching exercises and journal along the way so that your individual plan will be immediate and actionable.We'll explore:
⭕️ How to "flip privilege" to your advantage in the workplace
⭕️ How to engage the "outside-in" approach to leadership ascension in your company
⭕️ How to uncover your secret sauce and bet on "brand you" without trying to duplicate someone else's journey
⭕️ How to navigate the inevitable backlash and politics when your star begins to rise
⭕️ How to actually assemble a tribe and activate it as an act of self advocacy
⭕️ How to jumpstart multiple streams of income and still remain compliant
⭕️ How to build your confidence so that you always say and do what needs to be said and done as a true change agent
⭕️How to confront and shift your mindset about microaggressions/biases successfully, not just worry about them
⭕️ How to tap into the secret weapon that all high achieving women of color possess to separate you from the pack
⭕️How to manage Karen and take some best practices from Kyle (there's something positive there, believe it or not!)If you are an overqualified woman of color, you can probably relate to this book.
$

26.99

Self talk your way to the C-Suite with this #NoThanks branded journal. It is the perfect companion to the book, No Thanks: 7 Ways to Say I'll Just Include Myself. Why not have a journal to respond to the powerful questions at the end of every chapter so that you can put your plan into action as you reflect on how y0u will get unstuck from the challenges…