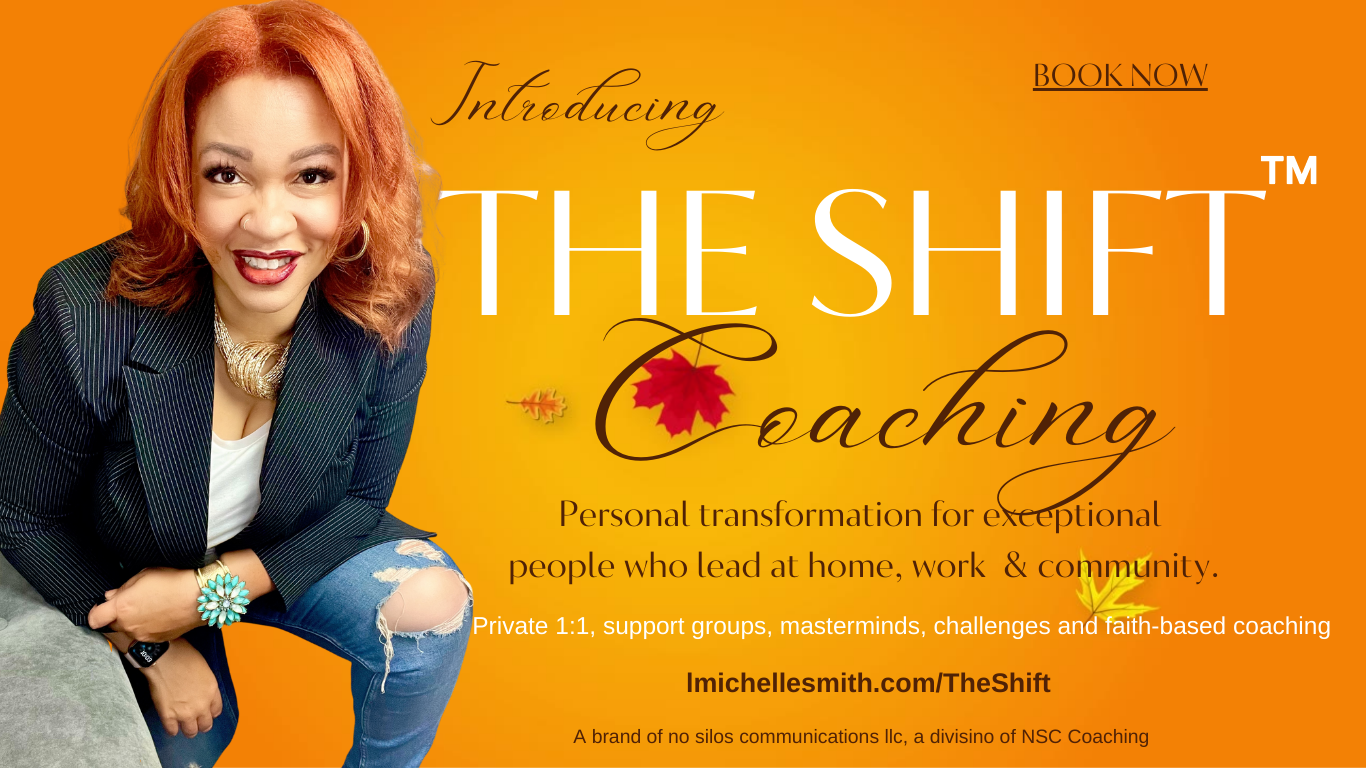 The SHIFT is your opportunity to transform your busy life and impact your home, work and community.  Whether you are an individual looking to accelerate positive growth and development,  a non-profit, a ministry or simply someone looking to build community with others while you move forward in life, The SHIFT is for you.
We host private 1:1 sessions booked one appointment at a time, or as a package for long term  engagements depending on your goals, and we also host support groups, masterminds and challenges on topics that are impacting people today.
Led by award-winning, bestselling author, speaker, facilitator and credentialed executive & personal coach and advisor to the Fortune 100, L. Michelle Smith, you or your team or group will learn how to leverage tenets in positive psychology, neuroscience and mindfulness to move forward in life and achieve the goals in life that your heart is set on.
Currently, our registration is open for Fall VIP Hiking & Healing  Experiences and will begin in October. Our Spring Forward Luxury VIP Spa Experiences will open registration in January and begin in March.  Each experience is open to current coaching community members who are interested in springing forward in their personal development or healing.   The FREE three-day SHIFT Peace & Productivity Challenge will kick off in November.
Healing & Hiking Experience
Looking for an immediate impact in your life, physically and emotionally.  Regain direction and clarity on a half-day adventure that included 1:1 personal development exploration and strategy while giving your body the workout it needs.
Explore one of the incredible, award-winning trails at Cedar Hill State Park and surrounding areas overlooking Joe Pool Lake with your coach.  The trails are scenic and vary from moderate to easy in difficulty.  You'll spend two hour with your coach. Don't worry, your coach is familiar with these trails, which will make exploring and discussing your personal development goals a snap, taking rest, water and snack breaks as you need.  Meander down the winding paths and uncover your healing journey during this invigorating and physically refreshing journey.  Take in the views, and breathe in time simply to think.
You'll close out your time with your coach over lunch at one of the popular nearby locations. Water and snacks and meals will be provided.
You'll have just enough time to make it back to your day, recharged for the afternoon.Return with new perspective and fresh outlook on your journey ahead.
This experience is limited to current coaching community clients only.  You can be local or fly in for the experience.
$650
Purchase your VIP Experience today.
Interested in booking this experience for a small group of your friends or colleagues, call the office at 469.523.1453.
Spring Forward Self Care Spa Sessions
Check into The Las Colinas Resort, Dallas (A Ritz Carlton property) for an exceptional overnight stay in beautiful Las Colinas just a 20 minute drive from downtown Dallas, where you will meet your coach for lunch at their award-winning restaurant.  Align on your personal development goal for the weekend and begin to co-create a path to spring forward in your journey.  You'll then be wisked away to their award-winning spa for your choice of a 90-minute massage with aromatherapy or one of their incredible facials.  Meet your coach in the spa's common area, poolside to reflect on the your next steps, then retire to your room to rest, hydrate and begin your work.  You'll meet your coach again for dinner and possibly a round of pool before retiring for the evening.  Awaken in your comfortably appointed deluxe room then meet your coach for your final session over breakfast the next morning.  The rest of the day is on your own, where you are encouraged to explore the resort, take in a round of golf on their world-class greens or simply relax poolside before check out.
You'll have just enough time to make it back home for Sunday funday or family time, recharged  and focused for the for the week and your life ahead.  This experience is limited to current  or coaching community members only.  You can be local or fly in for the experience.
Room accommodations, meals and spa treatments included.
$1,650
Purchase your Luxury VIP 1:1 Coaching Experience today.
Interested in booking this package for a group, call the office at 469.523.1453.
In the meantime, if you'd like to book an exploratory session for yourself or your organization, please reach out to book a 30 minute call or video meeting by calling 469.523.1453 or reserving time on our calendar.