Call 469-523-1453 to pose any questions you may have about an LMS appearance, virtual or in-

person

.
It's time your employees, faculty & students, conference goers, meeting or event attendees leaned in, lingered another hour to meet the messenger and left your meeting buzzing with actionable, practical takeaways and possibly humming a hip hop tune. L. Michelle Smith graced the most prestigious corporate and university stages and she's ready to rock yours too. Her calendar fills quickly, so make your request today!
She has appeared on big stages like  Black Enterprise Women of Power and Entrepreneur Summits, SXSW, Essence Music Festival, The Opera America Global Conference, The National Association of Black Journalists Career Fair & Convention, Brand Innovators and National Alliance of Musical Theatre.  She has appeared as a speaker for the Executive Leadership Council, AT&T, Capital One, American Express, Fleishman Hillard, WNBA, StyleCON, The Dallas Mavericks HQs, Kellogg's, Spotify and more.
Her why is simply this…
Because this new, fractured digital age demands it…
Since the coronavirus crisis and the tipping off of a global civil rights movement and because companies are scaling down like never before, moving into a new way to work and the mental wellness of leaders is more important than ever…
Because you need cultural intelligence as much as you need emotional intelligence and an entrepreneurial mindset to be successful in business these days…and companies need transformational leaders…
L. Michelle Smith has developed distinct strategies that leaders must do now to thrive in business.  Many of them are outlined in her latest best-selling book, No Thanks: 7 Ways to Say I'll Just Include Myself.
Signature Message
Her signature message is how to be a rockstar leader or brand that thrives at the intersection of tech, culture and business-and owning your pathway to smashing that goal.
It mixes tenants of performance excellence, personal branding, power relationship building, authenticity and more to own one's career, one's journey and one's brand so that she can create the opportunities that manifest choices, when it counts most.
Topics that can be explored within this platform include, but aren't limited to
Knowing Your Value: The Key to Your  Leadership Aspirations
Leaning Out to Lean In: A Leadership Imperative for Women
Navigating No: How Women of Color Can Rise to Executive Ranks Despite the Obstacles 
Leading Through Change
Preparing for What's Next After Covid-19
Resilience in the Age of Covid-19
The Authentic Leadership Imperative
Un-Networking for Those That Hate The Other Word
Assembling & Activating Your Tribe
Communicating like a BOSS
Powering Your Executive Presence in the Digital Age
Wielding Weapons of Mass Innovation
The Case for Culture in Technology
The Case for Culture in Marketing
Uncommon Times. uncommon Actions. 5 Ways to Break the DEI Paradigm
Fondly referred to as "The Oprah of Dallas," L. Michelle Smith has appeared as a guest lecturer and keynote speaker at Fortune 500 companies, universities at conferences and events across multiple industries.  But her value isn't simply on the platform.  She leverages her influence on her robust social networks, her global podcast and relationships with national business publications to amplify the engagement.
If you are interested in having L. Michelle charge up your next event and light up the platform,  please fill out the speaker request form, and someone will be in touch very soon.
For more topics that live within her signature platform, visit her coaching page.  Submit your speaker request right away.  Download her speaker sheet.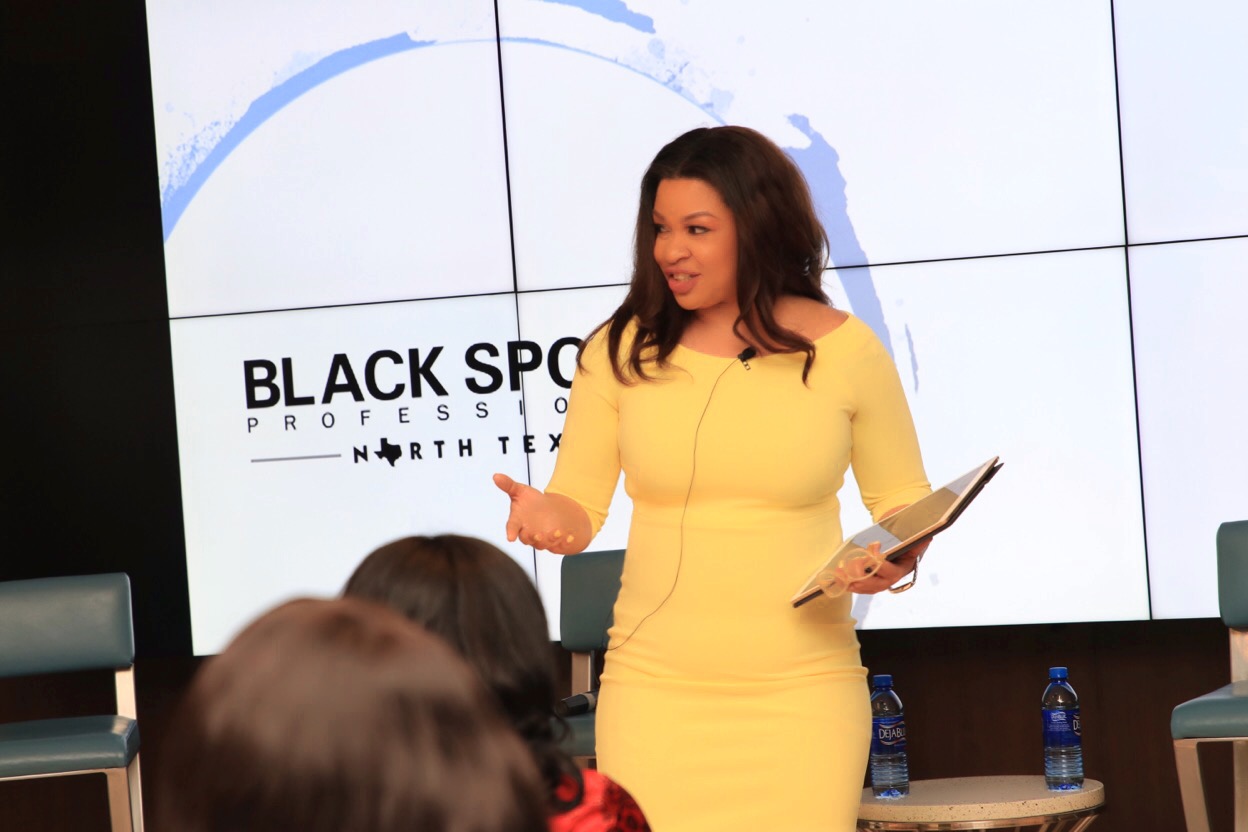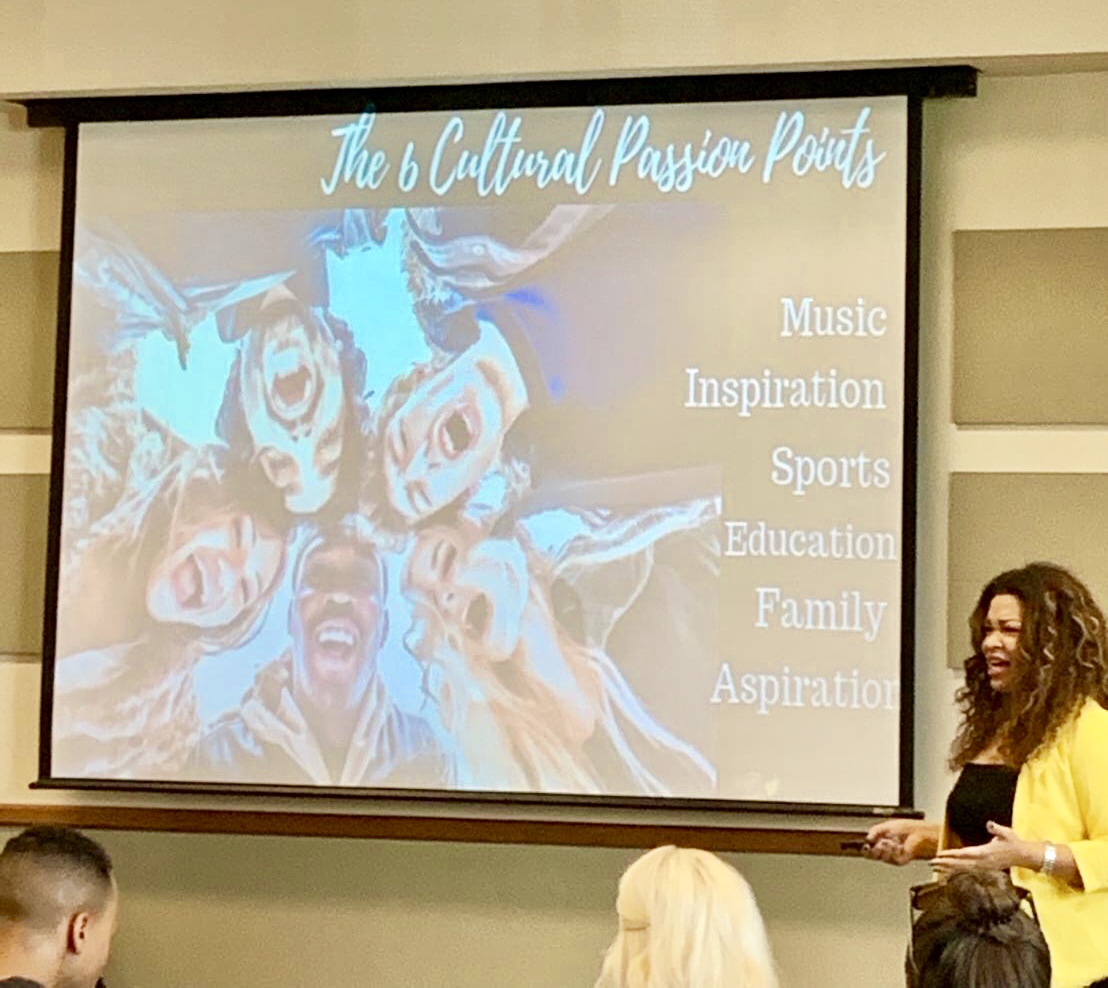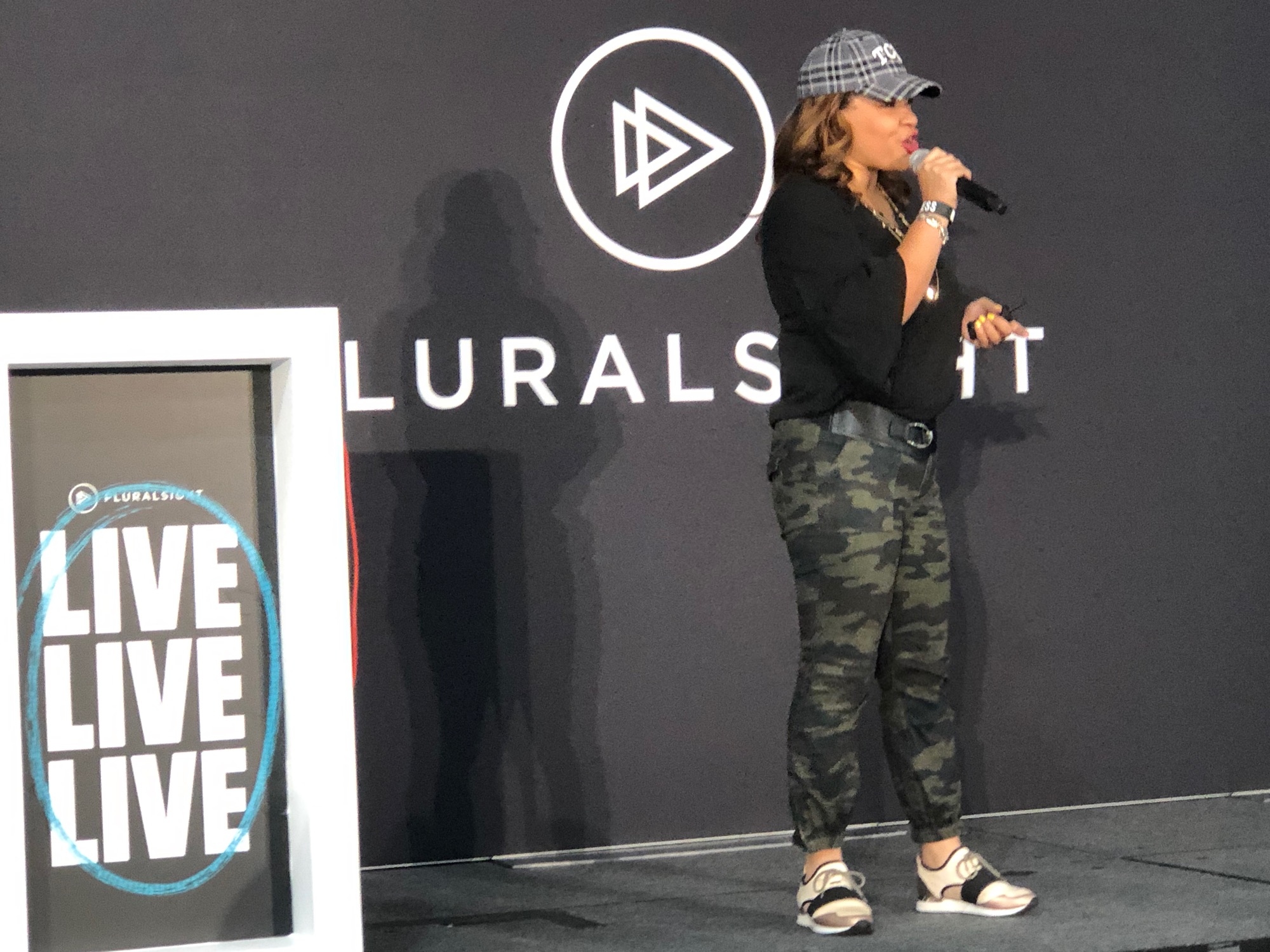 PPG Industries: The SHIFT Peace & Productivity Workshop
10:00 AM CT
Mocktails & Mentoring with Kenya Burke & L. Michelle Smith, Altria
PRIVATE
2:00 p.m. ET - 3:30 PM ET
Leadership Development Week: Bright Futures (ELC)
VIRTUAL
00:00
TCU Presents: Race & Reconciliation Panel
Texas Christian University
TBA
DePaul University, Guest Lecture, 2022
DEITech Conference, Keynote, 2022
Executive Leadership Council MLMS—Facilitator, 2022
Executive Leadership Council MLMS—Fireside Chat, 2022
Executive Leadership Council MLMS—Fireside Chat, 2022
Denyce Graves Foundation Shared Voices—Keynote
Lyric Opera Chicago—Workshop, 2022
Black Girls In Cyber—Fireside Chat, 2022
Women's Leadership Summit—Panelist, 2022
Lyric Opera Chicago—Workshop, 2022
BEN@Audible–Talk and Fireside Chat, 2022
Denny's AALG–Keynote, 2022
Opera Conference, OPERA America, Fireside Chat, 2022
DePaul University College of Communication, Guest Lecture, 2022
American Express Global Services Organization, Lunch & Learn, 2022
Relativity Space: Women's History #BreakTheBias Fireside Chat, 2022
AT&T Women of Color Program, Keynote, 2022
Opera America, Global PR & Marketing Forum, Keynote, 2021

TCU Scheiffer College of Communications, Panelist, 2021

Fleishman Hillard DE&I Summit, L&D Keynote Speaker (2 Sessions), 2021

D CEO Diversity, Equity & Inclusion Symposium, Closing Keynote, 2021

NABJ Authors' Showcase, Fireside chat with USA Today Business Reporter, 2021

Response Media Leading with Better Communication, 2021
AT&T Legal's Mental Health & Wellness Lunch N Learn: Change Better, 2021
Sisters in Higher Education #SIHE Summit, Opening Speaker, 2021
Nosh & Notes Bookclub Book Chat
Women of AT&T Black History Month Keynote Speaker,  2021
PMG Agency No Thanks Author Event, Keynote, 2021
Capital One EmpowHer International Women's Day Panelist, 2021
Texas A&M Corpus Christi, Media, Communication & Global Leadership Class, Guest Lecturer, 2021
The NETwork National C.A.F.E. Conversations: #NoThanks Author Event, Speaker, 2020
National Alliance of Musical Theaters Fall Conference Opening Keynote, 2020
FH Mosaic: Kill the Whisper Fireside Chat, 2020
AT&T/WNBA Changemakers: She's Connected Series, Panelist, 2020
DEITECH, featured breakout speaker, 2020
The 10K Project's Building Black Wealth, Fireside Chat, 2020
Goldman Sachs/DCCCC: Small Business Advice for Weathering Covid-19
Diversity in Action: Moving from Middle Management to the C-Suite, Panelists, 2020
D CEO Women's Leadership Symposium, Breakout Session, Facilitator, 2020
BRAND-AID: Content That Sells Webinar, Keynote, 2020
Executive Leadership Council, eLearning Series, Webinar Keynote, 2020
Opera America Global Conference, Panelist, 2020
The DEC Mompreneur Online Event, Keynote, 2020
Medgar Evers College of Business CUNY, Keynote, 2020
University of North Texas, Careers in Crisis, Fireside Chat, 2020
Howard University, Resilience During Covid-19, Guest Lecturer, 2020
Temple University, Journalism and Entrepreneurship, Guest Lecturer, 2020
NABJ Media Related COVID-19 and Crisis Communications, Panelist, 2020
PMG Agency WE Collective, Panelist, 2020
Lane College Leadership Conference, Keynote, 2020
D CEO Magazine Women's Leadership Breakfast Series, Panelist 2019
Omega Alpha Omega, Alpha Kappa Alpha, Sorority Incorporated MIP Luncheon, EmCee, 2019
TCU Bob Schieffer College of Communications, Guest Lecturer, 2019
Women's Leadership Symposium, Panelist, 2019
StyleCON Social Summit Dallas, Panelist, 2019
Wilberforce University, Emerging Entrepreneurs Panel & Roundtable, 2019
Lane College, Student Leadership Keynote, 2019
Texas Conference for Women, Breakout Session EmCee, 2019
Texas Conference for Women, Fireside Chat with Sheryl Adkins Green, CMO Mary Kay, 2019
Opera America Global Marketing Forum, Keynote, 2019
Mayborn School of Journalism, University of North Texas, Guest Lecture, 2019
American Marketing Association—Wichita, Keynote, 2019
Pluralsight LIVE, Keynote & Fireside Chat, 2019
NABJ Convention & Career Fair, Panelist, 2019
Dallas Maverick's HQs, Workshop, 2019
MAC3 One-Day Conference, Keynote, 2019
LEAD360 Combine, Masterclass and Women's Executive Forum, 2019
TCU Non-Profit Communicators Conference, Keynote  Panelist, 2019
Women's Opera Network, Webinar Keynote, 2019
LEAD360, Webinar Keynote, 2019
INNOTECH: Women In Tech, Panelist, 2019
Lane College Leadership Conference, Keynote and Fireside Chat, 2019
Hidden Figures of Sports, Black Sports Professionals of North Texas, Panel Moderator, 2019
AT&T HiDef Executive Symposium, Presenter and Moderator, 2019
TCU Bob Schieffer College of Communications Guest Lecture, 2019
Fireside Chat with AA Leaders, The Network National ERG, AT&T, 2019
TCU Bob Schieffer College of Communications, Guest Lecturer, 2019
DFW Urban League Young Professionals, Panelist, 2019
UNT Mayborn School of Journalism, Guest Lecturer, 2019
PowHer Moves Conference, Speaker, 2019
Retail and Customer Service Communications All Hands Meeting (AT&T), keynote speaker, 2018
Women of AT&T Mentoring Circle, speaker, 2018
Texas Christian University, Bob Schieffer Communications College, Honors PR Cases and Dialogics, Guest Lecturer, 2018
OASIS National Banquet,  panelist 2018
Essence Music Festival, Path to Power Pod host, 2018
TCU Nonprofit Communicators Conference, opening keynote, 2018
AT&T Global Marketing Organization Town hall/simulcast, speaker, 2018
The National Association of Black Journalists Convention Technology Newsmaker Plenary co-moderator with ABC News' Linsey Davis, 2018
The National Association of Black Journalists Convention Innovation Bubble, keynote, 2018
Black Enterprise Women of Power, After Hours with Chaka Pilgrim, host/moderator, 2018
Dinner on Us, Harlem w/Tier I broadcast news personalities, keynote, 2018
AT&T Global Marketing Organization, Creativity town hall, panelist, 2017
Spotify HQ (Brand Innovator), keynote and fireside chat, 2017
Kellogg's HQ (Brand Innovator), keynote and fireside chat, 2017
Brinker International HQ, (Brand Innovator) keynote and fireside chat, 2017
The Network ERG Speed Networking event, keynote and facilitator 2017
SXSW (Brand Innovator), panelist, 2017
The National Opera Conference, keynote 2017
Wunderman, NY (Brand Innovator), keynote and fireside chat, 2017
ColorComm Dallas, panelist, 2017
PRSA Dallas/Brinker International, keynote, 2017
Horowitz Cultural Insights Forum, 2017
OgyGEN ERG Mentoring Session, keynote, 2017
HACEMOS ERG Latina Networking Summit, 2017
The Network ERG MLK Day Simulcast and Town hall at AT&T, host 2017
Masterclassing Digital Marketing, Dallas, keynote 2017
TCU Social Media Convergence Conference, keynote, 2017
National Black Public Relations Society, National Conference, Chicago, panelist, 2017
Blogging While Brown: State of the Digital Space, Keynote 2016
Howard University Social Media Conference, keynote, 2016
PRSA International Conference, keynote, 2016
AT&T ERG Conference, Brainstorm Facilitator, 2016
Black Enterprise Entrepreneur Summit, panelist, 2016
Black Enterprise Women of Power Summit, panelist, 2016