At the core of the SOAR philosophy is excellence, inclusion and access.  Therefore, we bring the best experts to the table despite gender.  We believe that this is a key component to bringing women through the corporate ranks and into the highest levels of leadership. Therefore, we've brought together facilitators and coaches who are equip to address every aspect of the unique needs of the intersectional, mid-level, late Millennial, GenX or Cusper woman leader.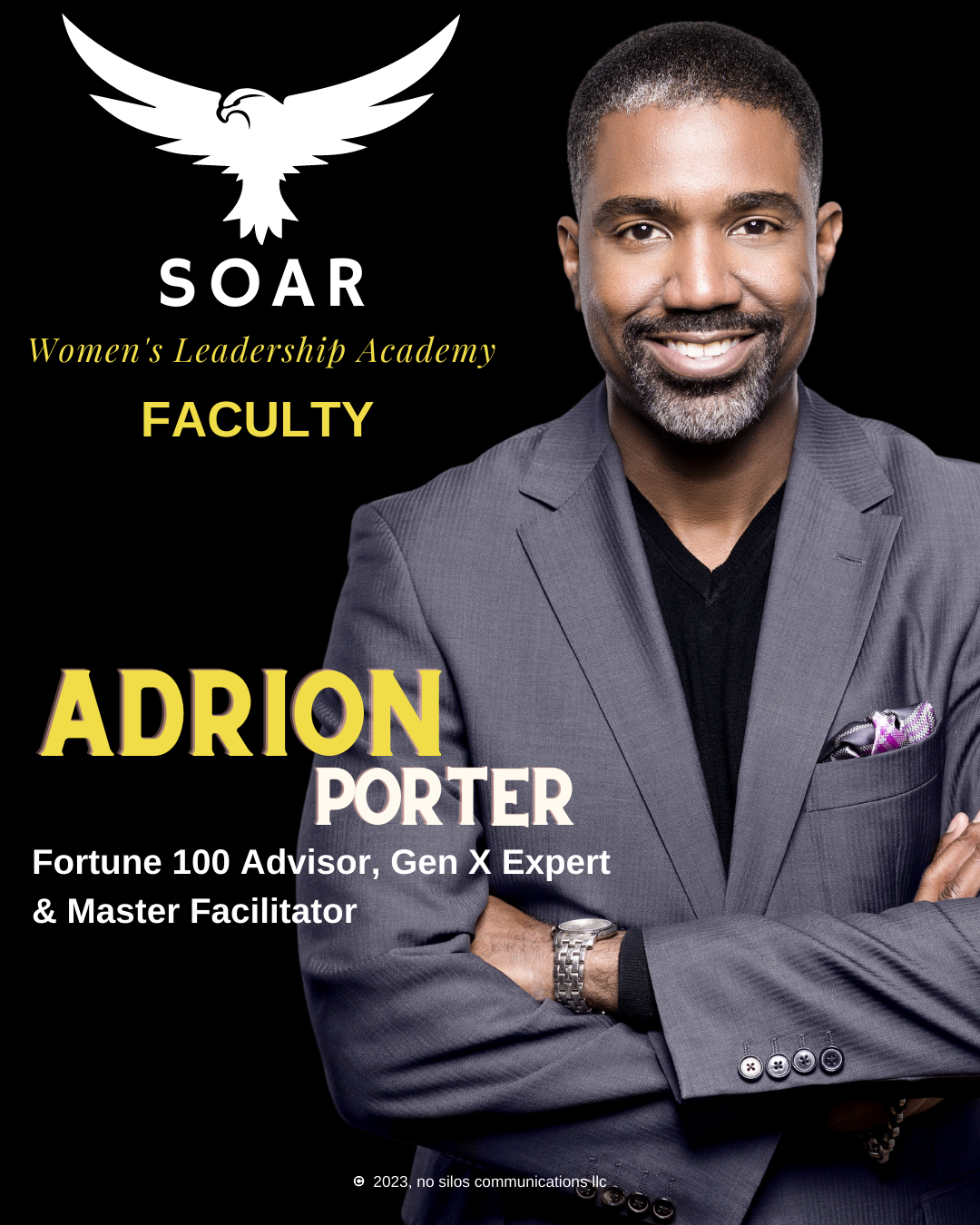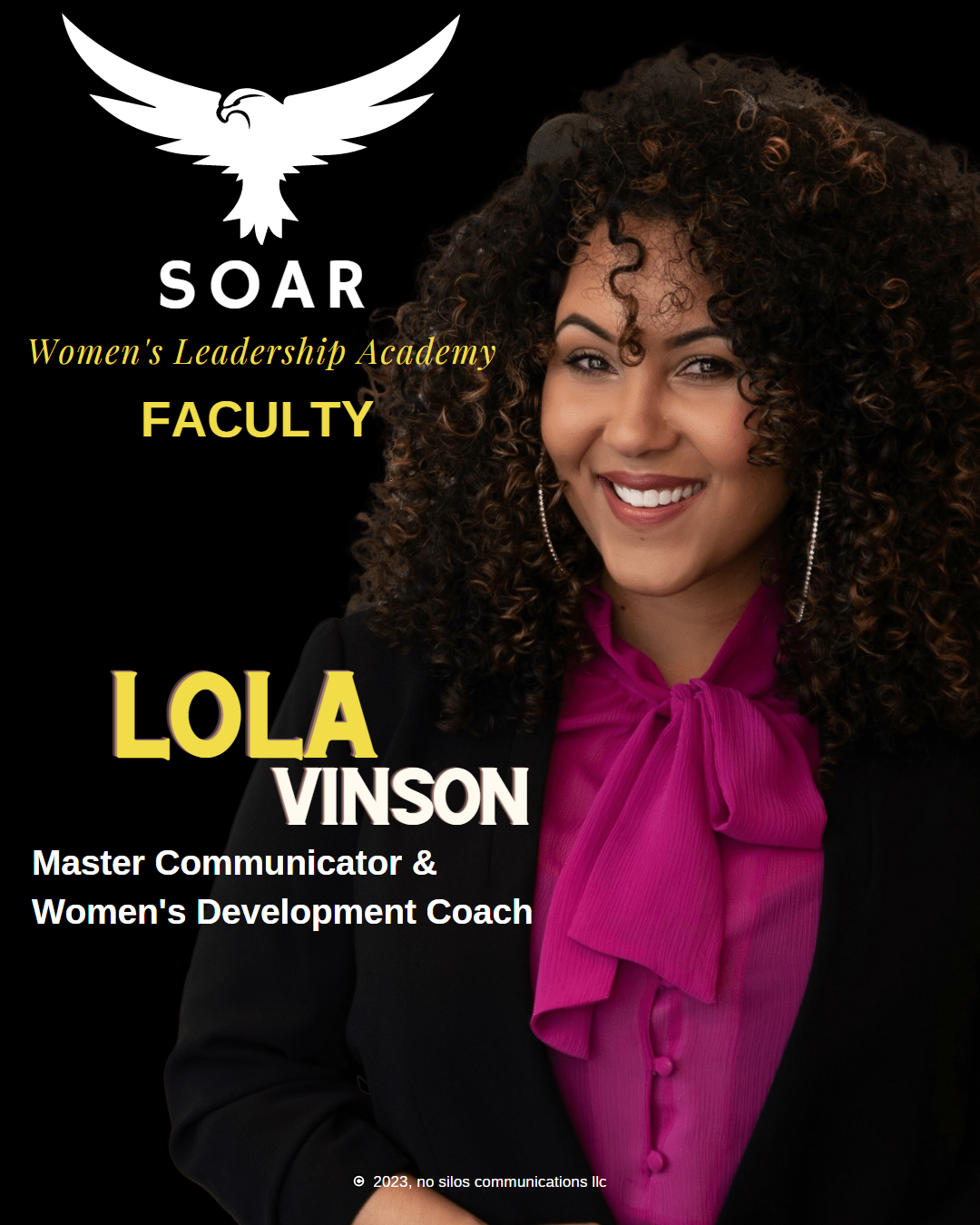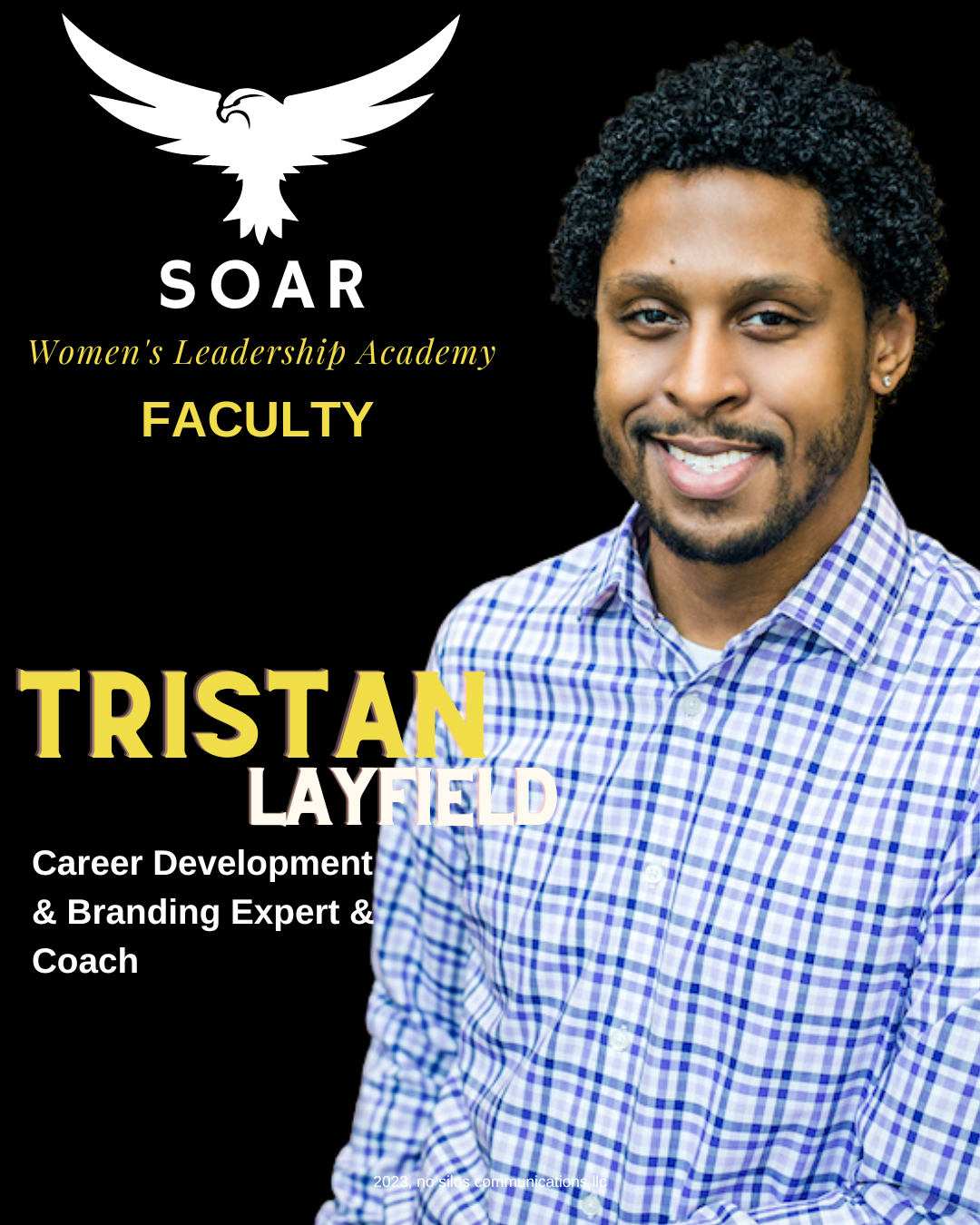 Sacha Thompson has more than 20 years of experience within the education, non-profit and tech industries, Sacha's work is about removing barriers or providing support to achieve equity. She helps her clients by filling the gap between where they are now, and where they want to be. Clients will reach their highest potential by identifying where growth is desired, and setting goals & objectives while holding themselves accountable. She was most recently featured in Forbes, Business Insider, and is a contributor on MSNBC's The Cross Connection.
Sacha is an International Coaching Federation (ICF) Associate Certified Coach, Certified Professional Diversity Coach, Maslow Certified Leadership Coach and 4 Stages of Psychological Safety Certified Coach. Sacha received her bachelor's degree in Sociology, concentrating on Cultural Diversity & Ethnicity and a Master's in Educational Policy, Planning, and Leadership from The College of William and Mary. She has also acquired her Masters of Business Administration from Johns Hopkins University, where she focused on management and marketing.
Her practice is based in Washington D.C.
Adrion Porter is a speaker, career strategist, age diversity advocate, and the founder of Mid-Career Mastery (MCM), a platform dedicated to building the most powerful professional growth community for people 40+. As a thought leader and expert on age inclusion and professional development, he is on a passionate mission to help people in their middle years thrive at work and in life.
Adrion is frequently invited by leaders and organizations around the world to present his signature framework— The Malaise to MASTERY Map™, a simple and actionable model for getting unstuck at mid-career and midlife. As a speaker and thought partner, Adrion has worked with an incredibly diverse group of organizations including AARP, LinkedIn, Humana, The Institute of Coaching at McLean/Harvard Medical School, Hired Inc., Black Enterprise, The Executive Leadership Council (ELC), Atlanta Hawks, Thurgood Marshall College Fund, and others.
With 20+ years as a marketing executive, Adrion has worked for some of the world's leading brands including HBO, Cartoon Network, Citi, and as the CMO of a media/tech non-profit.
Adrion holds an MBA from Vanderbilt University, and a Bachelor of Business Administration from the University of Memphis.
Adrion hails from Atlanta, Georgia.
Lola Vinson is a skilled strategist, coach, and facilitator focused on social impact at the intersection of race, culture, and public policy. She partners with movement builders and mission-driven organizations to advance causes of equity, justice, and liberation.
For nearly 15 years, Lola has taught people, organizations, and brands how to tell stories that amplify our shared human experiences to connect, build power, and create change. Lola brings deep expertise in media relations, strategic communications, content creation, digital marketing, and people leadership.
In her coaching practice, Lola cocreates pathways of transformation and success for partners using applied psychology and liberatory coaching principles to expand capacity, build resilience, and improve effectiveness. Lola concentrates her coaching partnerships on Black women and women of color, from emerging communicators to c-suite executives.
Lola received her coaching certification from the CaPP Institute (ICF accredited). She holds a MA in Global Communications with a concentration in Visual and Material Culture from The American University of Paris and a BFA in Digital Filmmaking and Television Production from The Art Institute. Lola is a Public Voices Fellow with the Op-Ed Project and a BCA Leadership Arts Institute Fellow.
Lola is based in Dallas, Texas.
Tristan Layfield is a career coach and resume writer that has helped over 1000 people identify and leverage their unique value proposition to transition their careers. His practice, rooted in personal leadership and self-advocacy, helps professionals to identify and effectively communicate their value to attract their ideal jobs or secure advancement opportunities.
Tristan has coached leaders at companies like Zapier, Thermo Fisher Scientific, Shell, IBM, and Alcon. He has facilitated career development workshops and seminars for universities such as the University of Michigan, Eastern Michigan University, Wayne State University, and the University of Pittsburgh. Tristan is currently part of Oakland Community College's Workforce and Economic Development faculty, where he develops and teaches career readiness curriculum.
With his work featured on major platforms such as LinkedIn, Business Insider, Black Enterprise, and The Muse, Tristan aims to help leaders transform their mindsets by building professional brands that help them take ownership of their careers.
Tristan's practice is located in Detroit, Michigan.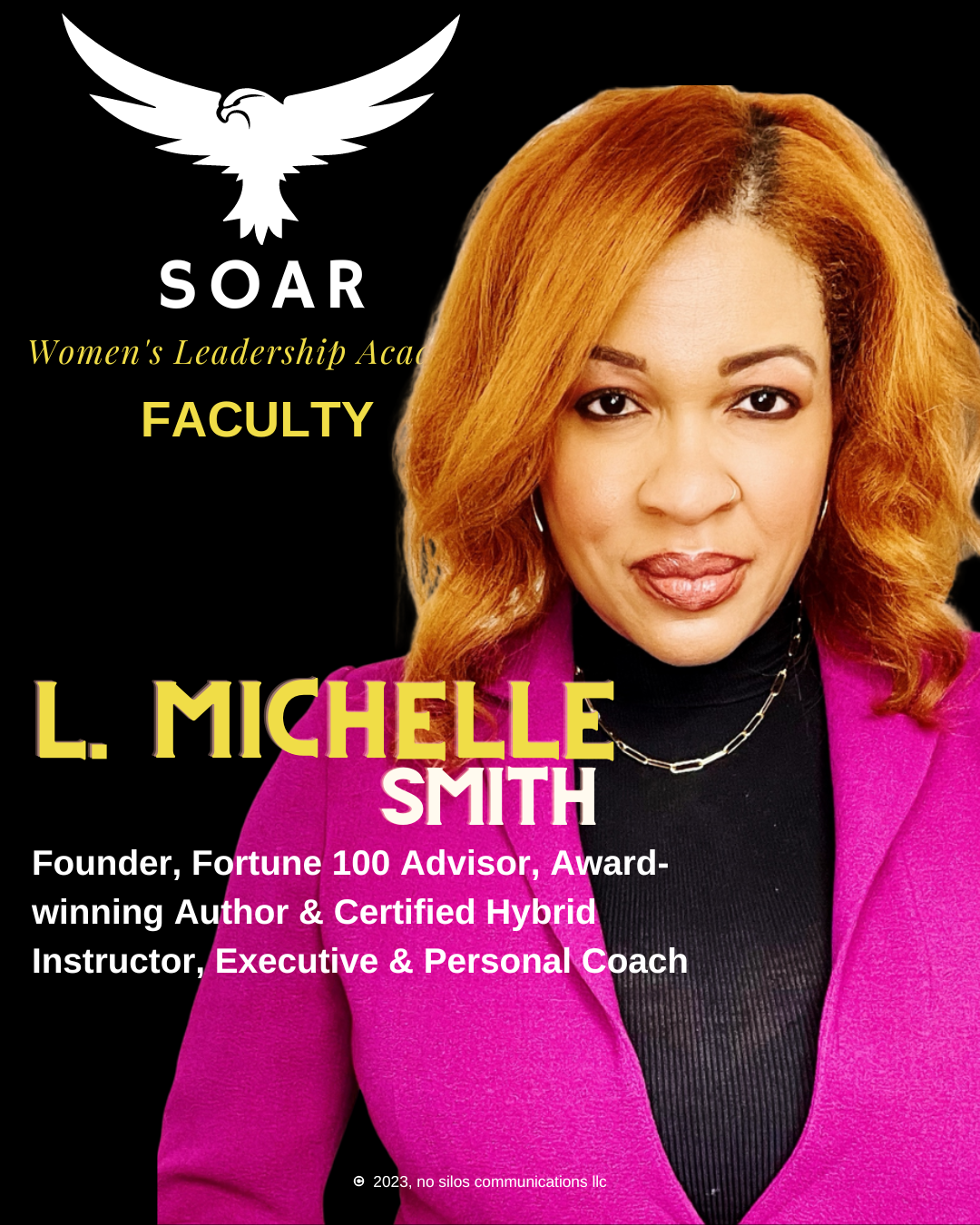 L. Michelle Smith is the Founder of SOAR Women's Leadership Academy, and the CEO of its parent, no silos communications llc,  a media and consulting company that blends talent development and strategic communications to develop high-performing executive leaders with a specialty in women and women of color. 
Credentialed by the International Coaching Federation, she runs a private, international coaching and consulting practice working with executives and organizations to create experiences that inspire exceptional leadership in life and at work. She specializes in moving mid-level and GMs through senior executive leaders to the C-Suite and support C-Suite leaders on their quest to have lasting impact beyond their careers. 
These leaders hail from the Fortune 100 including from American Express, Microsoft, Amazon, Google, Bank of America, AT&T, Lenovo, Netflix, Warner Media, CNN, Merck, Capital One and even some of the most recognizable organizations in the arts including the Washington National Opera/Kennedy Center, Lyric Opera Chicago and Opera Omaha.  She is also a go-to facilitator and executive coach for the Executive Leadership Council.
L. Michelle founded her practice on a solid foundation of applied positive psychology, certified by the Coaching and Applied Positive Psychology  (CaPP) Institute.  She is also informed in the disciplines of neuroscience and mindfulness and holds a certification in hybrid instruction from Texas Christian University where she holds a bachelor of arts in English, Writing Emphasis and a master of science in media studies.  She is also an adjunct professor of strategic communications at the Bob Schieffer College of Communication and sits on the board of visitors.