Mompreneurs Discuss How They're Making It Work Amidst a Pandemic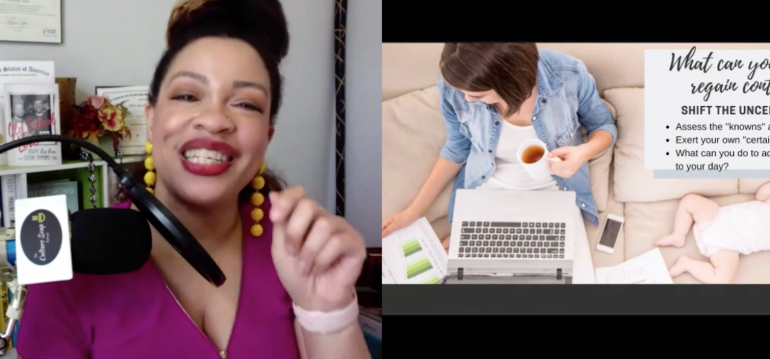 Since 2018, The DEC Network has teamed up with Capital One, which is the WEDallas founding partner and title sponsor, on the WEDallas Mompreneur event. Despite the ongoing pandemic, the two organizations still hosted the annual event—this time as a virtual happy hour. 
As always, the event centered on being both a mom and a business owner, but this year's event had the added element of the COVID-19 crisis. As some speakers mentioned, many mompreneurs now have to juggle homeschooling and looking after their children 24/7 with running their businesses, since many schools and daycares are currently closed.
This year's fireside chat and keynote speakers discussed these topics, how they're facing them, and gave tips on how to handle "the new normal" as a mompreneur. There were also virtual workshops on topics such as cocktail making and how to be an effective leader during a pandemic, as well as a "Mother's Marketplace" where attendees could virtually shop from fellow mompreneurs.
Here's our rundown of some of the major takeaways and advice that women can use in their professional—and personal—lives.
Brittany Merrill Underwood, Founder and Executive Chairman of Akola, and Tinsley Merrill, Co-founder and CRO of PAIRR Technologies
This sister duo kicked off the event with a fireside chat titled "Ten Years of Perspective: COVID-19 through the eyes of entrepreneurial sisters" moderated by Tracey Altman, principal of Altman Consulting and a board member of The DEC Network. The sisters discussed how they've been able to continue running their business, while also launching another business together in the middle of a pandemic.
For Underwood, this isn't her first time her business has gone through a major crisis. Underwood launched Akola, her socially-conscious jewelry brand employing marginalized Ugandan women, around the same time a recession began in the United States in 2007.
This time, the crisis came in the form of a pandemic, which began after Akola recently had a rapid expansion in Nordstrom.
Retailers began telling Underwood, who has three kids under the age of six with one only four months old, that they didn't know when they'd be able to order from Akola again. Instead of letting the company lose a large amount of its business, Underwood and her team worked quickly to come up with solutions. The Akola team decided to start creating DIY bead kits, which turned out to be a success and has made Akola's online sales continue to go up month-over-month.
"That's really floated our business during this time until the retailers come back online," Underwood said during the event.
Although Underwood's sister Merrill is not a mom, she says her company Pairr Technologies, along with their new company HerStory, are her kids. Since Pairr is a live experience platform, Merrill and her team soon realized they would need to pivot. So, they decided to start offering virtual experiences, which many brands supported, according to Merrill.
Along with pivoting their own businesses, Underwood and Merrill decided to create a new company during the pandemic with Whitney Rowell, the founder of Miracle Milkookies, which is a lactation cookie brand.
"I was like, 'Well, I've got a couple hours a night, might as well start a new company,'" Underwood said.
The three female entrepreneurs launched HerStory, a curated subscription box company supporting women-founded businesses based in Texas. The box currently has products from Jamie O'Banion's BeautyBio and Catherine Lowe's LoweCo, who is a former contestant on The Bachelor, as part of its selection.
L. Michelle Smith, CEO of no silos communications LLC
Smith's no silos communications LLC is the parent company for six media, content, talent development, and strategic communications consulting brands. Smith gave the keynote speech titled "Resilience in the Age of COVID-19" during which she offered advice to fellow mompreneurs on how to lead in a new and fractured digital economy.
Smith defines resilience as weathering storms when others give up, but that doesn't mean you're tough as nails: "You bend, you don't break." And, that moms have to be even more resilient. She says moms can bring different skills to the table, such as innovation or as Smith likes to call it, "making something out of nothing."
To be a mompreneur, Smith says you need to be able to lead through change.
"No one asked for COVID-19, but it's here, it's been thrust upon us. But the one way we can actually begin to control some of that change is when we take change by the horns," Smith said.
To do this requires a positive mindset, according to Smith, which includes shifting your attitude, your demeanor, your priorities, and your uncertainty.
"The word 'no' should be your fuel. You're going to hear 'no' and you're going to see 'no' over and over and over and over again, but that's what separates an entrepreneur from everybody else," Smith said.
Smith says to put your biggest priority first. If being a good mom is your priority, Smith says you need to put yourself at the top. Home and family follows, with career and business at the bottom. No matter what you prioritize, Smith recommends committing to a plan.
Originally published at dallasinnovates.com.