How to Control The Boogieman in Your Inbox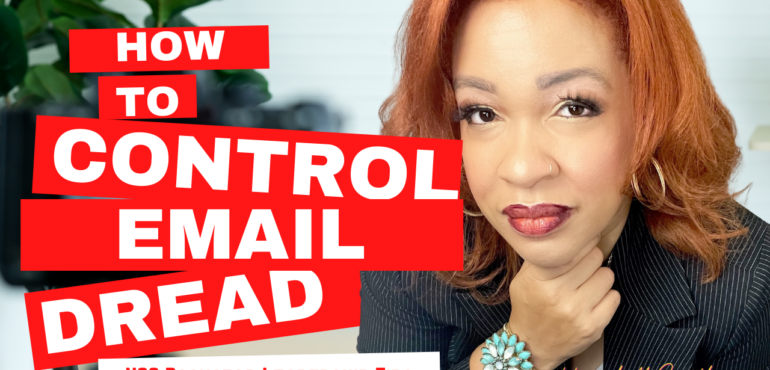 https://www.youtube.com/watch?v=qgug7UdZ9_w
Admit it… you've felt it. Email dread is real.
I never will forget being at the airport on my way to a speaking engagement. I was attempting to get centered on my message before boarding a flight, and there it was. It was an email from my boss, who I liked a lot; but, he was carrying news from his boss, and she had concerns—about a meeting that I'd had only a day before with an officer that had gone extremely well. The officer had commended me and was looking forward to the follow up.
But there was an expectation that the boss' boss had of me that hadn't been communicated, and she wanted them addressed as soon as I returned.
I remember feeling like my entire trip had been ruined. How could I focus on the message I had to deliver with this hanging over my head. I called my bossed and talked through it. He tried to get me not to dwell on it, but the damage was done.
Has this happened to you? Or maybe you were just sitting at home one weekend, enjoying family and friends, and there it was—a Slack notification that you just didn't want to look at. You may have even ignored it, but it stayed in the back of your mind until Sunday night—nagging at your psyche until you finally looked.
Let's face it. Inboxes aren't exactly full of holiday cheer, but they can be the gift that keeps on giving, or more correctly taking from your overall peace.
Isn't it time that you took back your time and the emotion that is tied to it? I share some tips in today's #NSCRockstarLeadership Tip of the Day.
Remember, whoever owns your time, owns you…and that extends beyond your calendar to how you manage your responses to your emails.
Look for Slay Every Day: 52 Weeks to Rockstar Leadership, The Journal to release worldwide Jan 1, 2022. It is a curated collection of these videos which can also be viewed on my YouTube channel. Be sure to subscribe.