3 Things to Expect and 3 Hacks for Launching Your Podcast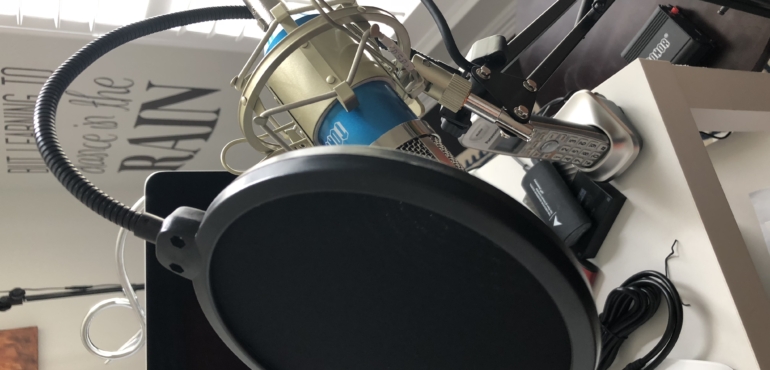 After much consideration, I finally decided to launch a podcast to share the great conversations and stories of well-known thought leaders and some emerging ones whom I can very proudly call friends. Podcasts have become wildly popular these days, so I've thrown my hat into the ring. The Culture Soup Podcast launched Thursday, Oct. 25, and it is available on all the popular podcast platforms.
I gave myself a little runway to pull this off (about 45 days to hack this thing from concept to launch) but I must say that I am having more fun than I've had in quite some time because it is allowing me to scratch an entrepreneurial and tech itch all at once. However, what I learned along the way about preparing to air one is not nearly as "simple" as some articles let on. Getting your tech game in order is 90% of the battle. So, in honor of the kickoff of The Culture Soup Podcast, I decided to share with you three
things to expect when you're launching a podcast and three hacks to potentially save you some grief along the way. Developing the concept had to be the easiest part of this undertaking, at least for me. Content strategy and positioning come fairly naturally to me. The rest of the journey…well, I'd need to dust off some old tech skills and dig in.
Don't get me wrong. There are harder tasks. I'd imagine rocket science or perhaps mapping the human genome are more difficult than getting a podcast off the ground. However, launching a podcast isn't as simple as everyone seems to say it is when you search for all the how-to videos and articles.
Related: Luvvie Ajayi and Yvonne Orji launch a hilarious new podcast.
THREE THINGS TO EXPECT WHEN CREATING PODCASTS
The how-to articles and videos are helpful, to an extent. It was very simple to access helpful articles on how to get started. In fact, there is a multitude of them, but very few were the latest information nor specific to my situation. For instance, I have a Mac. I found an article that told me all about the software I would need to get the production off the ground, but it wasn't until I tried to download the application that I noted that it was for PCs only. In another instance, I saw that there were articles saying that you could record remotely from Skype, but it wasn't specific about which version. The later versions do allow it, but I understand the quality isn't that great. Still, in other articles, everyone recommended using GarageBand. Great app, but that leads me to the second thing you should know.
All GarageBand software is not created equally. Take a moment and Google GarageBand how-to videos. Notice something? Every version under the sun is in these videos. You would not imagine how long it took me to find a video of the version that I have on my Mac…which is very different from what is on iOS devices. I looked it up because I wanted to know how to fade my music in and out under my vocal tracks. It took me a while, but I finally found one similar enough to get my answer.  Also, I assumed that if I edited or created a file on my Mac, I could easily share it to my iPad to edit on the go. No, sir or ma'am. Forget it. The two platforms are so different, even Apple support says don't even think about transferring the files from your Mac to your iOS device. I tried it, and my iPad gave me a nastygram. I looked it up to see if there was some app that might convert the files, and there is not. There is an exception. You can transfer iOS .band files to the Mac. You may lose some functionality, and you must transfer the files through iTunes to make it happen, according to the Apple support website. I won't be trying that.
Your journey has just begun when you finally find the right software, mic, and headsets to record in your studio. I was thrilled when those boxes came from Amazon. It was like a blerd Christmas had happened. Once I had finally found the right version of Call Recorder for Skype (that's a whole other article by itself), I just knew that I was well on my way to podcast utopia. Ensuring that you have the right inputs and outputs and that you are not recording from the external speakers is crucial. You will spend time on that. You will also need to ensure that you have on headsets so that your mic doesn't pick up the voice on the other end of the line from your speakers. Your caller should also do the same. Otherwise, you will have to do some tricky editing. Which is a great segue into hack No. 1.
THREE HACKS TO LAUNCH PODCASTS
Always split your tracks before editing. In the interview I did with Maceo Smedley from All About the Washingtons for a bonus episode to air on Thanksgiving Day, there was an echo in the background. Since he wasn't wearing a headset and hadn't muted his computer, I could hear myself on the other end. Two reasons why I didn't tell him to mute or put on a headset. Traffic held me up getting to the interview, so I was a bit late. He and his parents had been very patient, and, well, he's an 11-year-old. I really didn't want to give him more to do. So, I saved the tracks separately and was able to edit out the echoes on his track.Voila…it was like nothing happened!
Use iOS Voice Memos for recording on the go, but invest in a microphone. A cardinal rule is to never rely on your built-in microphone. They capture every noise around you and lack the quality sound you are after. I considered recording with GarageBand, because I considered editing on the go, but after reading the article from Apple Support on transferring the files, I decided to keep it simple. When I travel to LA next week for my Opera America board meeting, I will interview CEO Marc Scorca of the organization with this tiny Samson mic that resembles my big Toner mics I have in my studio. The sound is wonderful. It clips to the top of my IPad Pro when I dock it on my wireless keypad, and anyone within a few feet of it, sounds like they are in the studio. He booked a small quiet meeting room, and I will press record on Voice Memos for iOS, and when I'm finished, I will have a handy mp4 file to AirDrop back to my Mac for editing back in my studio.
Always tease them with a little video. This veers into the marketing lane, but promoting your podcast is 60% of your show's success. Invest in good lighting for your studio, but even better if it is portable. I have a Social Lighting loop that goes wherever I need it to go. The advantage of Skype for remote calls is just that: you can take the video whenever both the caller and interviewee are agreeable and looking their best. Consider your backdrop and hit record from a few different angles. Your computer will record what's on screen, but you can record from other angles with your smartphone and the right tripod setup. If the interview and subject are that compelling, amplify the entire session on YouTube. I like to place snippets on IG and Twitter ahead of an upcoming show; it drives more traffic to your show, especially when interviewing notables.
Finally, if you want to skip all this, there are agencies, assistants, and consultants who can arrange all of this for you. You can pay them, and everything will be ready for you. But if you are like me and love technology, it really is a fun challenge to take on, and the feeling is so rewarding once launch day comes and you have several episodes edited and cued for the duration.
For more about why I created the show, be certain to listen to the Preamble Episode that dropped the day before the show debuted, and sign up while you are at it. I have a lineup of notable and emerging thought leaders and creators who all sit at the intersection of tech, culture, and business, so be sure to subscribe so you can go on this journey with me.
Originally appeared on blackenterprise.com.