Social Media: A Digital Portal for Access, an Opportunity and a Voice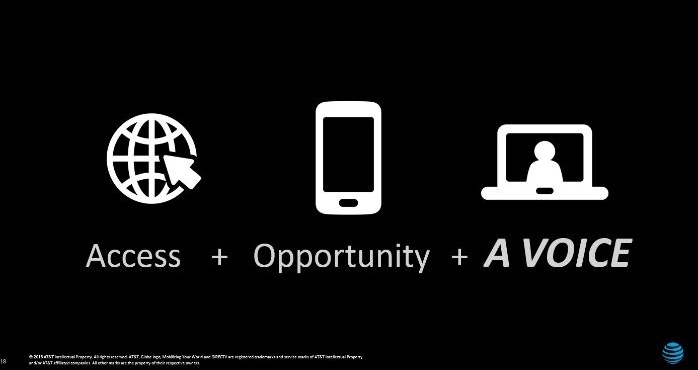 On Oct 6, 2016, I spoke to students, faculty and staff from a variety of universities and colleges at the 6th Annual Howard University Social Media Conference.  The topic was how social media has provided access and opportunity to marginalized communities.  I share the original script of that keynote below, and I'd love to hear about your experiences.  The keynote was live streamed on YouTube here (starts at about 34:15).
Disruption: a radical change in an industry, business strategy, etc., especially involving the introduction of a new product or service that creates a new market.
I'd like to argue that disruption is one of the top reasons why underserved communities have gained access to opportunity, found their voices, challenged stereotypes.
There are three key technological advances that led to these open doors:
The collision of these three items in the palm of your hand enabled people who didn't have the ability to break through and be heard, to do just that.
1991—sometime in the late summer—several sources say the World Wide Web went live to the world. Consumers could now roam free on the Internet—all they'd need was a computer that could access it that meant enough memory to do so and a dial-up modem—which was really, REALLY slow…but exciting!
Remember waiting on dial up? Remember those annoying sounds? It was the sound of progress—however slow it was. I'd go heat my dinner while I waited for the screen to load on my 486 that my father built for me.
It was what I'd use to apply for my first job online. Ironically, enough, I'd land a role at Fleishman Hillard, where I'd help launch digital subscriber lines—or DSL—the first generation of high-speed broadband.
Although the Internet was free to everyone to use, search and develop, not everyone was able to access it to do any of those things. Most black and brown families just didn't have these things. And those who did, wouldn't exactly be considered underserved.
My father just so happen to have programmed first-generation computers. We couldn't afford to buy one, but I was lucky enough to have a dad who could build one.
1992—although people didn't begin to use the term "smartphone" until around 1995, according to Business Insider, the first true smart device made its debut. It was developed by IBM, and it was called the Simon Personal Communicator.
Think of it as the pre-cursor to the Palm Pilot.
I had one. I thought I was the bomb. I no longer needed a Rolodex. I kept my digital contacts in my purse—and it had a stylus.
Anyway, 1992 was an interesting year. The cost of owning a PC that would get you onto the Internet was too high for many people of color, let alone these little palm devices which were actually pretty limited in scope. At most they'd connect you to your e-mail. At the least, they'd help you navigate a city while keeping you on schedule.
You couldn't work on your resume.
There was all this talk about a digital divide for black and brown people.
Ultimately, bridging it meant that these groups would be able to access the Internet—which many believed would be the access they needed to level the playing field between them and their white counterparts.
We could search for jobs.

We could make affordable purchases.

We'd have access to information.
It was the first Bush era—after the first Iraq war. We heard the 90's version of a goal echoed in the 50s that sounded something like, "a chicken in every pot." The government wrestled with how to provide everyone with affordable access to the Internet.
Even by the time Clinton took office in the late 90s, premium services like DSL were considered out of reach for certain communities.
But cell phone technology had been around for a while at this point.
There were a ton of cell phone makers claiming to be smartphones and quickly ushered out the Palm Pilot era…but they typically had a rudimentary browser, and centered on short message services, your calendar and contacts. They were really about packet data and not what we are use to seeing on our Android or iOS devices—digital video streaming at high rates of speed on our LTE networks.
The networks had to play catch up—2 G….. 2.5G—and it would be a while before we'd see really see 3G. That was when the first of the smartphones as we know it would debut.
2003 would usher in the age the Blackberry…but it wouldn't be until 2007 that we'd see our very first iPhone.
The Apple iPhone would change everything—Internet browsing was the primary feature, but photo sharing and music were also the new NEW—and this was long before the selfie!
In the meantime, Twitter was launched in the summer of 2006….and became popular after SXSW in Austin in 2007.
August 2007—the hashtag debuts on Twitter.
Facebook opened to the public later that fall. It went mobile in 2007 and launched its mobile app in 2011.
So sometime between 2007 and 2008 EVERYTHING CHANGED!!
And by everything, I mean—just about everything about accessing the Internet for marginalized people. Suddenly, the so-called digital divide was bridged—NEARLY IMMEDIATELY.
HTC announced what some called the first Android smartphone in 2008– which was much more affordable than the iPhone—and it was ON.
So while this particular technological disruption really was about 15 years in the making—when the Internet, the smartphone and social media finally collided—the impact was nearly immediate.
We had access.
We had new opportunities.
We had a voice.
I like to call mobile social media "the great equalizer."
I was running a small boutique agency when I realized what was happening. The ground-floor in social media was a level playing field. The big agencies didn't know any more about it than we did. And the race for brands to get involved began.
But not everyone was a believer:
2009– best-selling author and The New Yorker author Malcolm Gladwell argued,
"Why the Revolution will Not be Tweeted" providing background on uprisings in Moldova and Tehran (2009) and drawing a distinction between high-risk activism (e.g. Mississippi Freedom Summer Project, 1964) and the present use of platforms like Facebook and Twitter. He argued these platforms are "built around weak ties. Twitter is a way of following (or being followed by) people you may never have met. Facebook is a tool for efficiently managing your acquaintances, for keeping up with the people you would not otherwise be able to stay in touch with."
Fast forward to now, and we'll see that there was a tipping point for technology and many diverse segments, but in Mr. Gladwell's defense—few saw it coming.
The impact of social media movements have created a digital whirlwind of change for communities that originally struggled to get a seat at that table.
That seat may be virtual. But it is a powerful one.
According to Ebony's Terrence Chappell:
"Social media is built around human experiences. Platforms such as Twitter, Instagram, Facebook, and Periscope make those experiences, positive or negative, public, scaling its shareability. In the 60s, if an activist wanted to get the word out, they used a switchboard. Today's activists tweet, Vine, stream, or post. Social activism in the digital age is diffusive, but still mobilized."
Now, underserved voices can be heard.
A great example of this is a phenomenon called Black Twitter. Home to the hilarious and the "ratchet," it is also a vehicle for raising topics of social change to prominence and taking over national news headlines:
#BlackLivesMatter, #HandsUpDon'tShoot, #ICantBreathe, #SayHerName and the responses to police shootings and police brutality of people of color

#BringBackOurGirls and the global impact of calling for the return of kidnapped girls in Nigeria

Charleston church shooting in South Carolina

The taking down of the Confederate flag

Protests against racism on the University of Missouri campus forcing the resignation of senior officials at the school
Then there is the obvious—mobile devices are smack in the middle of the issue of the killing of unarmed black men during encounters with police. We learned of Philando Castille on Facebook Live.
We've seen all of these movements and cries for action unfold in our newsfeeds.
A leading voice in the digital space said that the online space has given way to "organizing without organizations." He noted that the Internet and thus social media networks, can lower the traditional barriers to collective action. (New York University's Clay Shirkyhas)
According to Pew Research's study Civic Engagement in the Digital Age,
39% of American adults took part in some sort of political activity in the context of a social networking site such as Facebook or Twitter within the last 12 months
Political engagement on social networking sites is especially commonplace among the youngest Americans, as two-thirds (67%) of all 18-24 year olds (and nearly three quarters of those young adults who use social networking sites) engaged in some sort of social network-related political activity in the 12 months preceding our survey.
18% of social networking site users say they have decided to take action involving a political or social issue because of something they read on those sites.
Whether it is social activism, political or even a means to break down stereotypes, the black community isn't the only group that has benefitted from this watershed moment in technological disruption.
While black people over index on Twitter—Hispanics over index on Facebook and Instagram Asian Americans can also be found en masse on YouTube as well as Instagram, but gravitate to free global messaging platforms like What's App or Kakow. LGBT communities also over index on Instagram.
All of these groups access these platforms with their mobile devices more than the general market. (Nielsen)
The Hispanic community has also found its voice, tapped into opportunity and smashed stereotypes.
In 2013, a highly coordinated "iMarch" in Washington to promote immigration reform became one of the largest social media advocacy efforts ever. It generated thousands of tweets that landed more than a half billion times. Politicians were bombarded by hundreds of tweets, such as Ted Cruz, who received over 300. The hashtag #LATISM was used more than 1 million times a week, reaching more than 10 million people. Today, 72 percent of Latino Internet users say they are on social media sites compared to 58 percent of all U.S. internet users, according to the Pew Research Hispanic Center.
You may not realize what Psy—you know—the Gangham Style guy…or Asian YouTube artists like David Choi and the K-Pop craze have to do with all this, but ask any digitally connected Asian youth, and they will tell you:
Social media for them, is all about new opportunity, creating a voice and tearing down stereotypes.
According to Nielsen, Asian Americans are the most active demographic segment on social networks, period.
Social media has been key for them in dismantling the myth of the "model minority." Asian Americans flocked to YouTube because they have been type cast in Hollywood. Opportunity in movies, music and beyond was slim because of pre-conceived notions and racial stereotypes.
The #whitewashedOUT campaign was created by writer Ellen Oh to bring to attention the traditionally Asian roles that have been replaced by white actors, or "whitewashed."
YouTube allows many Asian American the freedom of self-expression–and a self-made worldwide audience.
Now enter multimillionaire beauty bloggers like Michelle Phan and Toni Ko–the latter of whom just sold her brand to L'Oreal for $500MM.
Would they have been able to break into the beauty industry the traditional way and made this much cash?
Would the modeling contracts or makeup artist deals come their way? Would they be positioned as experts?
YouTube became their global platform, and it paid off.
For the LGBT community, social media has been a change agent.
You might remember when the Human Rights Campaign changed its iconic logo on Facebook to red to show support for marriage equality. The logo was seen by 9 million people and shared over 70,000 times.
The campaign also used a combination social-text message campaign to inform the public and celebrate the historic legalization of same-sex marriage. The text message notified more than 275,000 supporters, beginning the trending hashtags #LoveWins and #MarriageEquality. To continue the celebration, over 3,000 people texted in photos of themselves and their loved ones to create a crowdsourced photo album.
So this technological disruption has enabled so much for marginalized people, and we are only seeing the beginning.
The proliferation of technological advances at such a rapid pace will drive costs down—which will drive increased access.
As we witness the onset of the Internet of Things and the social media landscape expanding at the speed of sound, we will see even more innovation in this space, and I believe, more social change where it counts most.
But here is the rub:
It isn't enough to be a super user. The future of access, having a voice and change—will lie in the hand of those who actually know how to develop, code, create and control these technological advances.
It's why support from companies like my own for organizations like Girls Who Code or Black Girls Code mean so much to keep this wonderful trend moving forward.
We need to become the disruptors.
My dad taught me to code when I was 12 years old. I hope to give my daughter, who is only 4 years old right now, that same gift.
The question is—
What will you do to get ready?
L. Michelle Smith is a consumer insights expert who is helping one of the world's most respected Fortune 10 companies prepare for our nation's new reality– an unwired, digitally-driven, multicultural and global society. She leads Diversity and Citizenship & Sustainability corporate communications for AT&T.