Brands Drive Consumer Engagement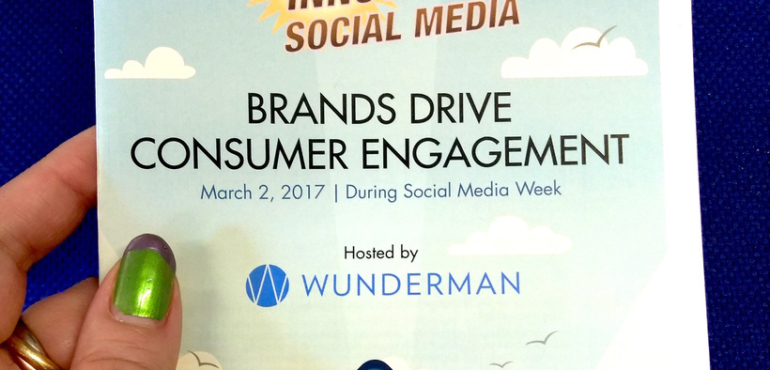 By Lisa Chau, Contributor
Earlier this month, I attended the afternoon sessions of the Brand Innovator Summit held during Social Media Week in New York City. Ted Rubin chaired the event, which focused on how Brands Drive Consumer Engagement.
Below, I've summarized the highlights of each session —
Senior Brand Director at Heineken, Quinn Kilbury told the audience that whatever a brand is doing, it must be useful. Consumers have so many choices that a brand will be ignored if it does not add value. That said, humor is valuable. Branded content will change minds, if done right & consistently. But, if content is not useful and authentic, don't do it. Millennials have a highly tuned radar for detecting inauthenticity, and they will not engage with a company that produces content that is not true to its brand.
Anheuser-Busch InBev's Senior Director of U.S. Innovation Andrew Eis and Senior Innovation Brand Manager Derek Mauk concurred that consumers want brands to be true, & local. They explained that growth because of consumer demand is the best way for a company to expand. However, it's hard to be authentic AND huge. Be patient. Use social listening to determine what consumers want you to launch – They will tell you. Additionally, use social data to figure out the story that needs to be told, not the story you want to tell.
The panel for Tapping The Social Data Gold Mine moderated by SocialRank Co-Founder, Alex Taub explored the ever-increasing portfolio of social networks currently led by Facebook, Twitter, Pinterest, Instagram, Tumblr and Snapchat. These platforms provide a treasure trove of insights for analysts, engineers and data scientists to learn about consumer behavior and how to respond effectively. Head of Social Media at ClassPass Cara Friedman uses content to tell interesting stories while Vice President, Director of Marketing at Penguin Random House Kristin Fassler uses social feedback to guide strategies in refining messages and amplifying reach.
The biggest driver of sales is reach, as discussed in the session for Leveraging Consumer Generated Content and the Next Wave of Brand Experience moderated by Jennifer Butte, Executive Director of Sales at Storyful. Panelists included: David Dominik, Digital Media Manager of the New York Football Giants; Josh Karpf, Director of Social Marketing for DraftKings; Ryan Saghir, Director of Digital Marketing at Sabra Dipping Company; Jeremie Moritz, Digital Director for Absolut Elyx, Pernod Ricard. The group explained that scaling is most effective through photos because static images are less time consuming and effort intensive than writing or video production. There is a cultural ubiquity of fan photos, and almost everyone can take a good photo.
Social media has transformed consumer interaction with brands and the expression of brand enthusiasm, as evidenced by the proliferation of user-generated content that shares brand and product experiences. The next wave of digital marketing will thrive on these types of consumer endorsements. A company's fans are its best advocates. Companies don't have customers; they have fans – As in the case of those who prefer Samsung v. Apple.
However, companies don't need to be a monolith to have impact. Keynote speaker and Director of Public Relations for AT&T Global Marketing L. Michelle Smith noted that, "Mobile social media is the great equalizer — One compelling tweet could end up on CNN." People can start a revolution in bed with their pajamas on. "Social media is the DNA of diversity and an invitation to inclusiveness."
Keynote speaker and Chief Creative Officer for theAudience Patrick Mulford added that we yearn for inclusivity and validation. He said, "Listening alone doesn't help build relationships," so we've created social networks to produce the sense of community that continues to erode. Yet, what we've produced is ever-evolving and unpredictable. The network is a living organism that is organic and chaotic. And that's what makes it exciting.
People use social media for:
Socializing
Telling stories
Framing personal & social reality
And most of all, seeking validation
We curate our life moments to present a certain type of self – More exciting, more intellectual, more glamorous… Most people take ten selfies just to post one. "Sharing content is an act of bravery" because we might not get the attention or public validation we crave. Indeed, we can be outright rejected or mocked.
Every piece of content is a story, no matter how small. And every piece of content is seeking validation because we are insecure. There is no such thing as a selfless action in social media. It's where we show everything want to be affiliated with — Social media is the new bedroom wall of movie and music posters. It's where people see our passion points.
As an example of affiliation v. engagement, Mulford pointed to the 43 million people who followed a generic "About Apple" page despite the fact the technology giant never posted this content nor anything else there at the time.
Managing Director for Wunderman Health NY William Martino provided the following take-aways:
Learn your way up
Data holds the clues
Authenticity matters
Connect the dots