Rolling out celebrates the Top 25 Women of Dallas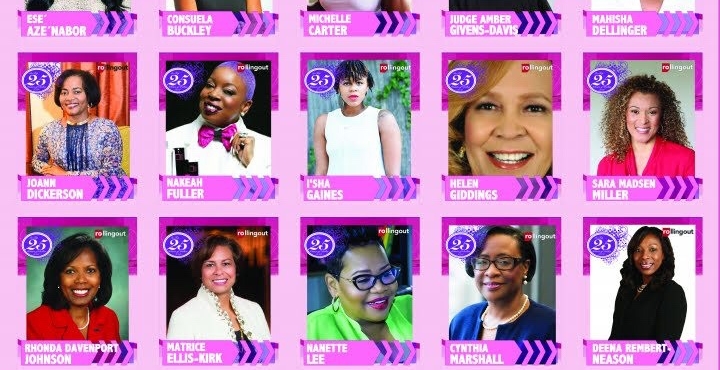 By Celia Walker, rollingout
On Tuesday, Nov. 15, 2016, in front of over 400 enthusiastic guests, 25 dynamic women were honored for their service, hard work, dedication and accomplishments. Rolling out, The Steed Society, and Female Success Factor celebrated 25 of Dallas' most prominent women with an elegant reception and awards presentation.
The event was hosted at 7 for Parties in the heart of the design district of Dallas. The evening began with a VIP reception sponsored by Southern Glazer's and Voga Wine, for the Top 25 and the Female Success Factor sponsors, (Comerica Bank, AT&T, Toyota, Dr Pepper Snapple, Charter Spectrum). Guests were later greeted with fun food flare, cocktails, and beats provided by Poizon Ivy The DJ. Dionne Anglin, Fox 4 News, Blogger, Reportermom.com and Co-Founder of Pretty Smart Girls, was the Mistress of Ceremonies.
The energy in the room was electric as Dionne shared the success stories of each the honorees and the audience posted on the social media wall using #FSFDallas2016.
One of the highlights of the night happened when comedian/radio personality and culinary artist Nanette Lee received her award. She playfully grabbed the mic but soon became serious as she thanked Rolling out for her award and shared that after many years in the business and critically acclaimed success, she had never been honored. This presentation was only topped by our salute to our 2016 "Living Legends",  92 year old twin sisters Hazel Greer Williams and Mazel Greer. These two trailblazers received a standing ovation as their remarkable story was shared with the crowd. In 1942 they enlisted in the United States Women's Army Auxiliary Corp becoming the first Negro female twins to join the WAAC.
It was certainly a night to remember as the evening was closed with remarks by Steed Media's Chief Publishing Officer, Munson Steed and the "mannequin challenge" by host Celia Walker. If you missed it, I'm sorry, but check out the photos in the gallery provided by Xavier Jordan Photography.
Special thanks to DeNita Quinn, Achieve PR and to Top 25 honoree Mahisha Dellinger for providing CURLS gift bags for all of our guests.
Rolling out, The Steed Society and Female Success Factor congratulate and salute our Top 25 Women of Dallas 2016.
Ese' Aze'nabor – Fashion Designer Haute-Couture and Ready-to-wear
Consuela Buckley – Founder & CEO Sway Creative Staffing Firm
Michelle Carter – 2 time Olympian, US Gold medalist
Judge Amber Givens-Davis – State District Judge, 282nd Judicial District Court
Mahisha Dellinger – CEO & Founder CURLS Beauty Brands
JoAnn Dickerson – Principal, Riverside Applied Learning Elementary School
Nakeah Fuller – Founder & CEO of Nakeah Cosmetics of Hollywood
I'sha Gaines – Founder Editor of HoneyBeNatural Magazine
Helen Giddings – Texas House of Representatives
Rhonda Davenport Johnson – Comerica National Director of Retail Sales and Services
Matrice Ellis-Kirk – Managing Director, RSR Partners
Nanette Lee – Comedian, Radio personality and Culinary Artist
Cynthia Marshall – AT&T, SVP HR & Chief Diversity Officer
Sara Madsen Miller, COO & Co-owner, 1820 Productions
Deena Rembert-Neason – Dr Pepper Snapple Group VP HR Services
Dr. Faith Oliver Robertson – Oral & Maxilofacial Surgeon, Cosmetic Makeup Artist
Minerva Rodriguez – President & CEO, MRR & Associates
Erika Salter – Founder & Managing Partner of The Law Offices of Erika N. Salter
L. Michelle Smith – AT&T Global Marketing, Director, PR
Jennifer Stimpson – The Hockaday School, Educator, Innovator, Scientist
Yodit Tewolde – Attorney/Founder The Law Office of Yodit Tewolde
Lupe Valdez – Sheriff, Dallas County
Rowena Raroque-Watters – Owner & CEO, ETC Learning Centers
Cheryl Polote-Williamson – Philanthropist, entrepreneur & inspirational speaker
Alma G. Davis – Alma G. Davis Foundation, CEO
Originally appeared in rollingout.