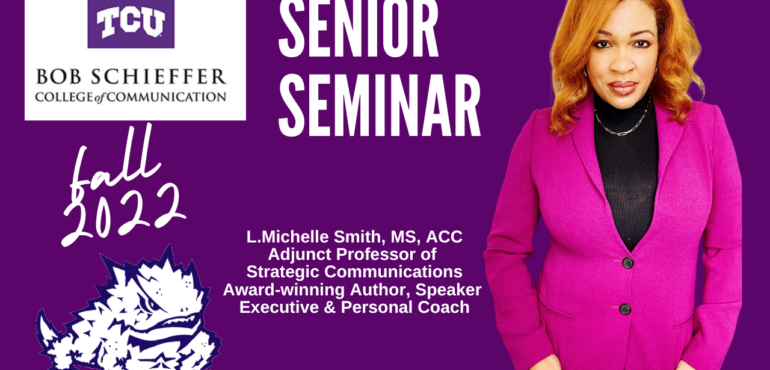 Excited to announce my return to TCU's campus in person this fall for a 4000-level course focused on graduating seniors from the TCU Bob Schieffer College of Communication. In both sections of Senior Seminar, I will be sharing how to best prepare to lead in this new work environment as communicators bringing my unique blend of leadership development and strategic communications to the table for these young aspiring professionals.
Last year, I guided nearly 100 students to the end of their university journey and to new beginnings with some amazing opportunities in finance, tech, entertainment, business and more, and it wouldn't have happened with out a lineup of incredible guest lecturers and speakers from my network.
I will be extending personal invitations to many of those who poured into my students last year, but I also look forward to having new voices from my community chime in for these students. If you are interested, click the link below. The criteria is that you must know me, and I must know you—but I must especially be over the moon for your work. Please don't skip over that last part. This isn't a time to try out your speaking chops for the first time, and it definitely isn't a time to sell. I'm looking for people who are as engaging as they are anxious to inspire new leaders in any area of strategic comms (marketing, advertising, PR, social media) or talent development, attraction or acquisition. And finally, you can be at ANY career stage.
I look forward to seeing some of the students that I taught three semesters ago in this class, and other new faces on this new journey. If you are a student at TCU and are a graduating senior, be sure to register for STCO 40901-70/71.
Express your interest at bit.ly/TCUSeniorSeminar2
Dry bones, need not apply. 🙂. I primarily pipe speakers in by Zoom, but if you are local and would like to visit the classroom, you are more than welcome.
I will select the best candidates for my students at my discretion and reach out to those who fit the criteria.
See you on campus soon!