How to heal….and move forward. 🚗💨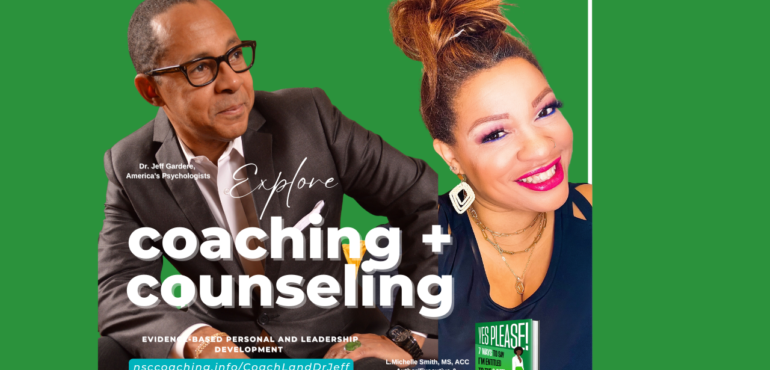 Sometimes it simply takes more…
…to lift you out of moods and mindsets and move you forward.
So we reimagined things for you.
Have you explored "Coaching+ Counseling" with L. Michelle Smith, M.S., ACC, CPEC and Dr. Jeff Gardere for yourself or your organization?
Join the many leaders in my coaching community who have.
Inspired by our work together on the book Yes Please! 7 Ways to Say I'm Entitled to the C-Suite, we are thrilled to announce a game-changing collaboration – "Coaching + Counseling" – is a joint, global initiative by America's Psychology and Coach L. 🤝
We've reimagined success, combining certified coaching for clarity, accountability, and acceleration with licensed counseling for self-knowledge, healthy relationships, and emotional well-being. It's a holistic approach for personal and professional transformation. 💼🌱
Science-based strategies underpin "Coaching + Counseling," aligning healing with forward-reaching goals. You'll learn new behaviors, find happiness faster, and ultimately pave your way to success. Remember, happiness fuels success! 🌟
What sets this collaboration apart? L. Michelle Smith and Dr. Jeff Gardere are offering Support & Growth Groups, Executive & Personal Coaching & Counseling Packages, and workshops tailored for organizations and individual leaders. It's a journey of empowerment and growth with results-driven and proven experts.
Join us in embracing a transformative journey of self-discovery, empowerment, and accelerated growth. It's about seizing your worth, achieving dreams, and nurturing your well-being.
Want to learn more about how "Coaching + Counseling" can help you as a leader or your organization?
Learn more about Dr. Jeff & Coach L's work on Yes Please!, sign up for a consultation and download collateral. At lmichellesmith.com/yesplease.
Learn how to be happy anyway…